Level—Up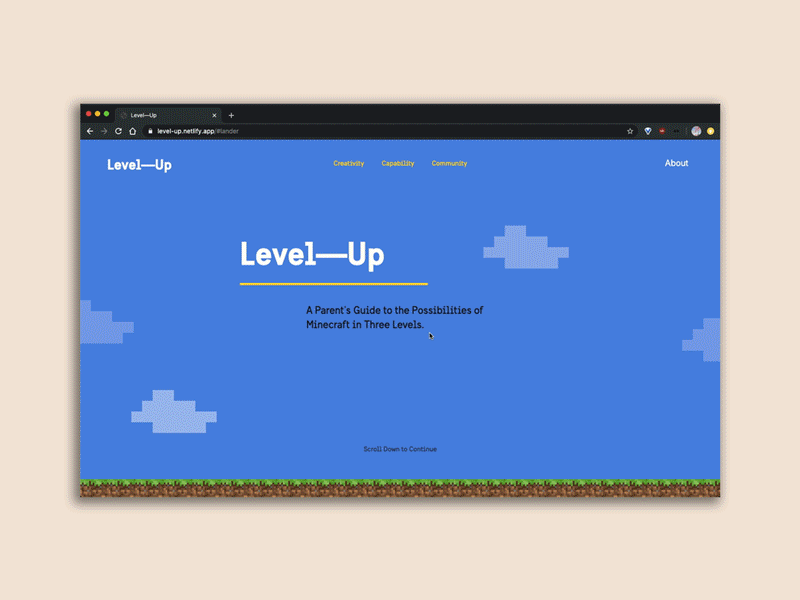 An interactive guide for parents to learn more about the potential positives of Minecraft. This site features the voices of authorities and children to convey both of their perspectives in a unified way.
This project is the culmination of a semester-long independent study with user mapping, wireframes, prototypes, user-testing, content curation + writing, and finally hand-coding from scratch in HTML, CSS, and Javascript.
** Note
: site is not mobile friendly due to the interaction being heavily based on JS
UI/UX
Product Design
Interactive desktop experience
Prototyped and wireframed in Figma
Built using HTML/CSS/Javascript
Hosted on Github and Netlify
I also wrote an in-depth
case study
where I talk in more detail about my process and the evolution of this project.
INTRO


Ever since I was young, I've always been captivated by video games and the immersive spaces they provided me. However, growing up, they've always been a point of contention for me and my parents.

The roots of this project stemmed from the question: "Why do you play video games?" This question is one that I've asked myself countless times. And for me and many others, the answer has usually been: "Because they're fun!"

But, I wanted to dive deeper into the why. Why are they fun? How can parents better understand that fun? Video games have played an important part in my life, and I want to communicate that love and interest as best as possible to parents everywhere.

This project's core goal has always been to show the why and have parents understand that reasoning through a digital, interactive, and engaging site.



GOALS
Showcase what makes video games so fun for kids and why they become so interested and invested in them
Destigmatize the culture around games by showing parents the potential positives that can emerge from Minecraft
Craft a easy-to-navigate site with simple interactions that eases the learning experience for busy parents
Help parents broaden their perspectives and understanding so they can better support their kids and their interest in games
SOLUTION STATEMENT
A parent's guide to the positive possibilites of Minecraft through three simple levels.
FINAL BUILD

** Note: full site is not mobile friendly at the moment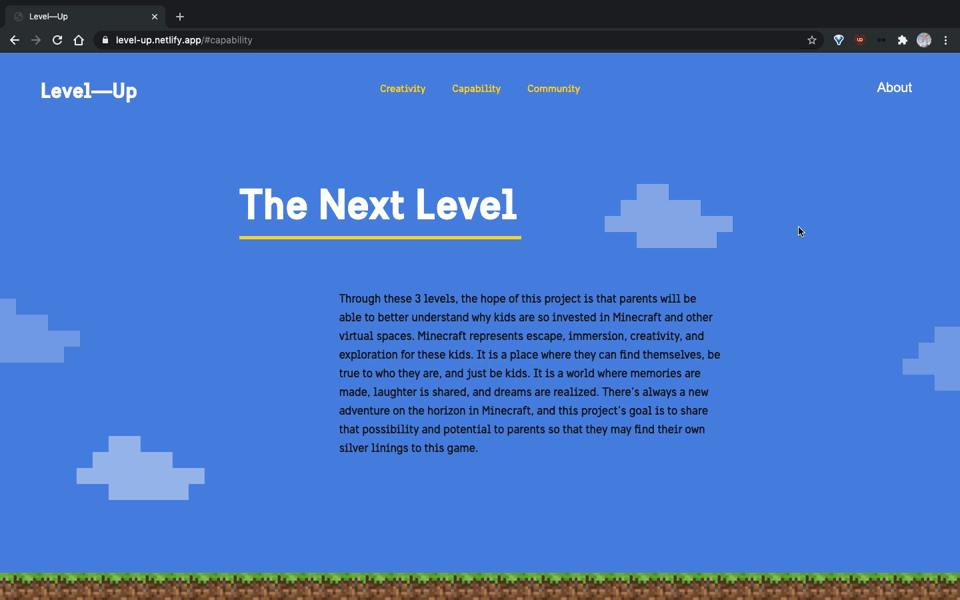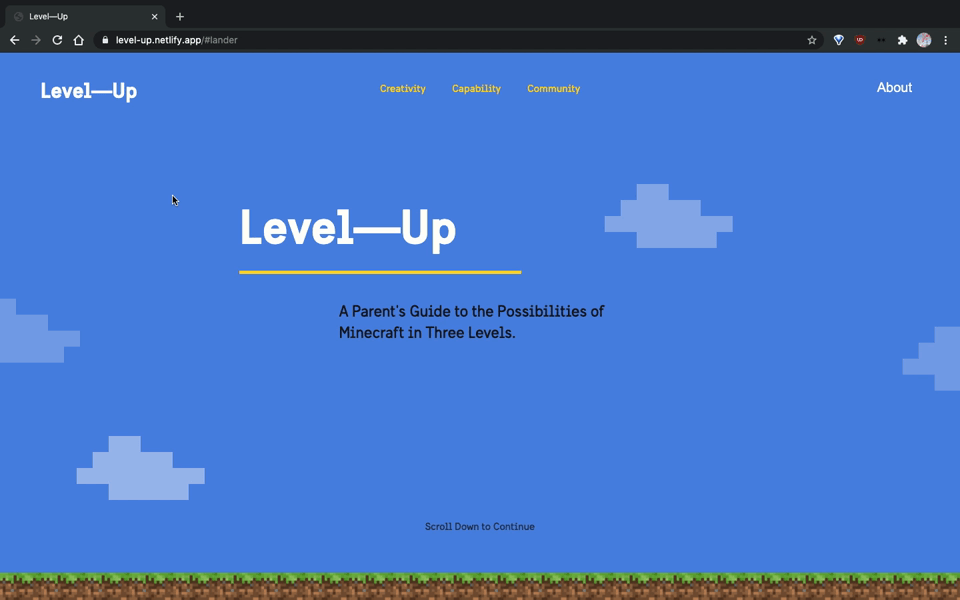 USER RESEARCH

I wanted to learn more about parents' experiences, pain-points, struggles, and what positives they could find.

As a way to refine this process, I created some user maps to record and clarify the things I learned (and assumed/inferred). I made one each for parents and kids to compare and contrast their experiences to guide the project and its design.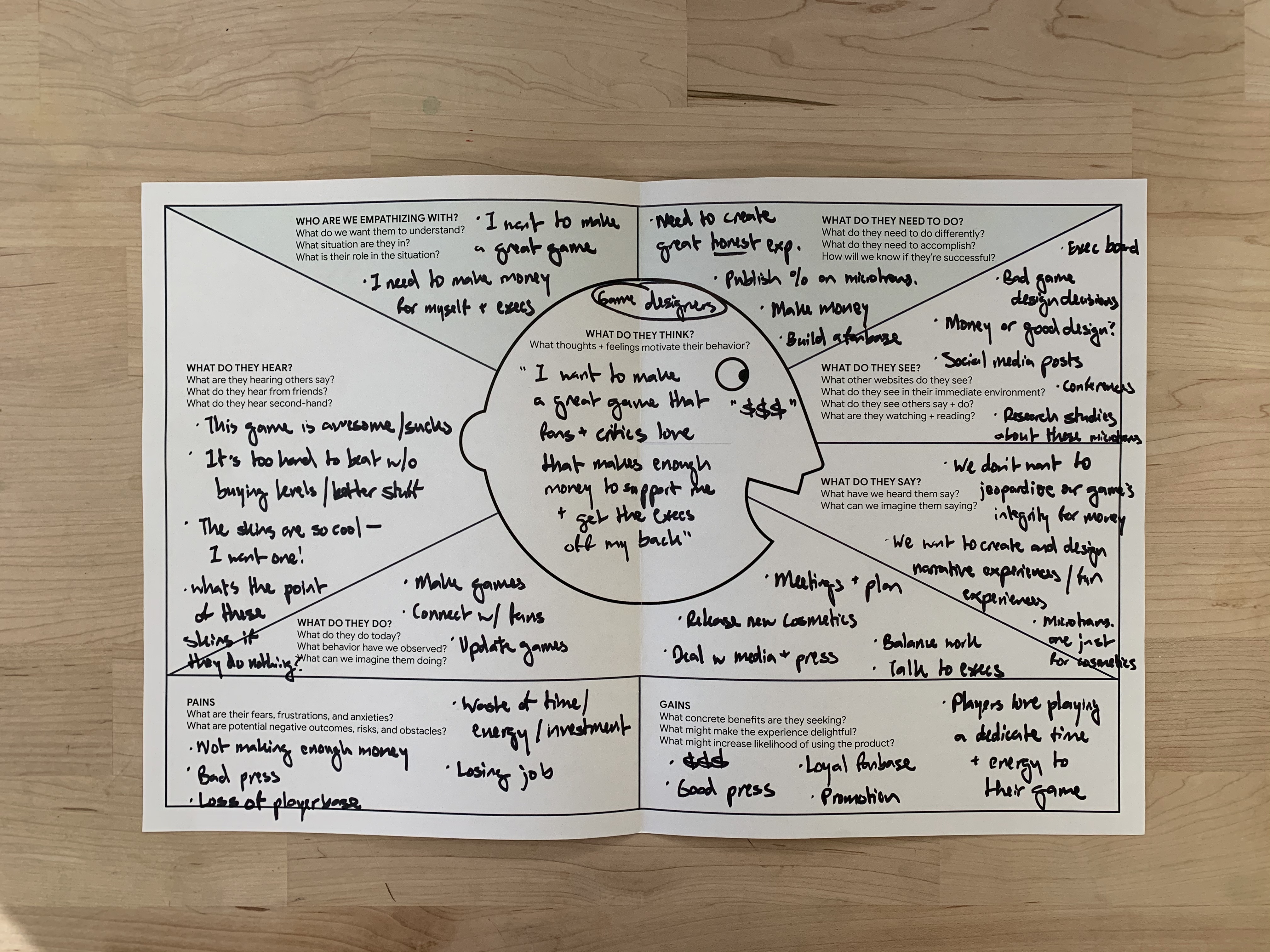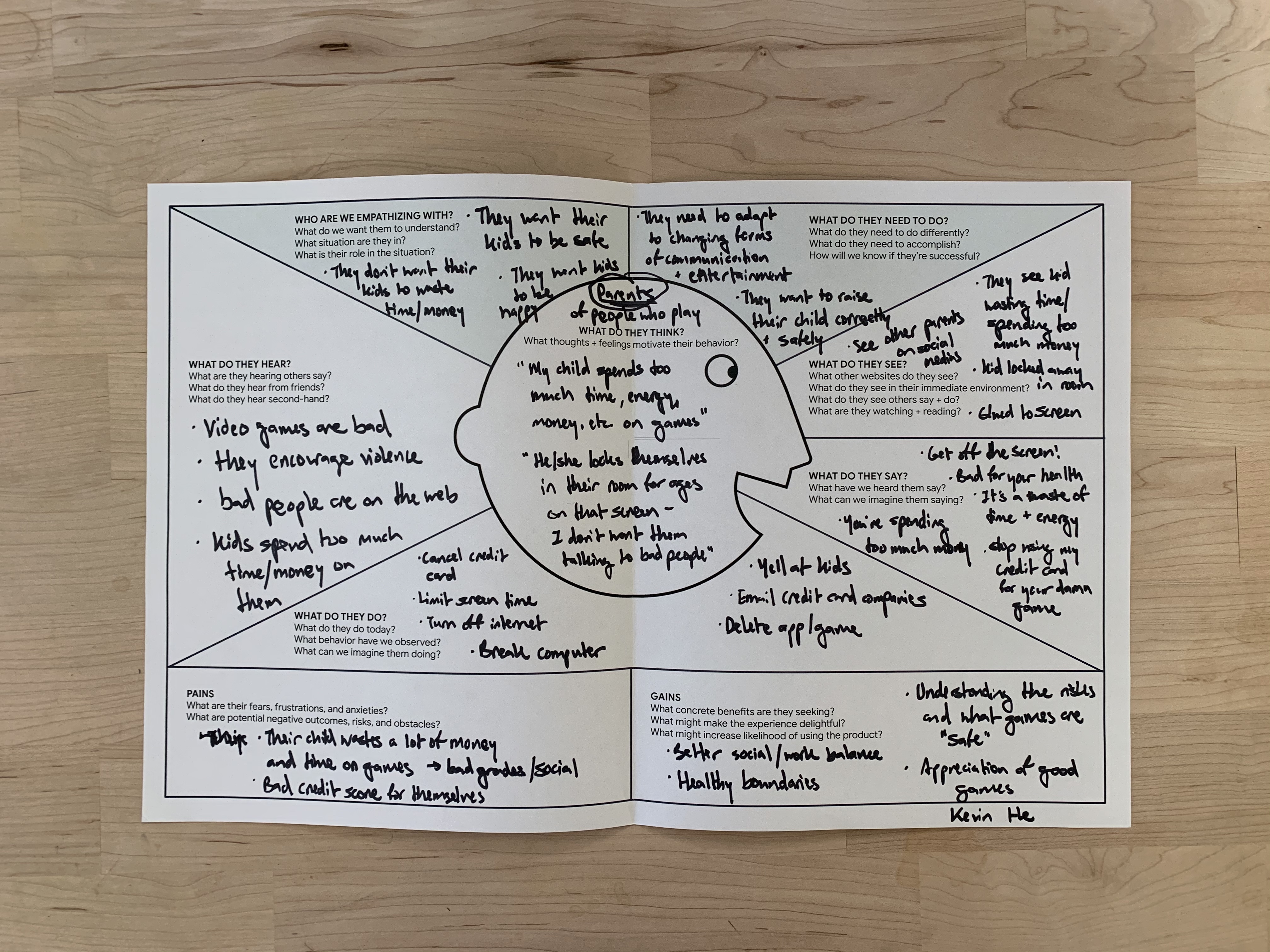 I also interviewed a parent about their experience with video games. I wanted to hear their thoughts about their kid's relationship with games, any specific pain points they had, and how the parents handled the issues. I took a more exploratory approach with this conversation to just hear the parent out and get a sense of their feelings.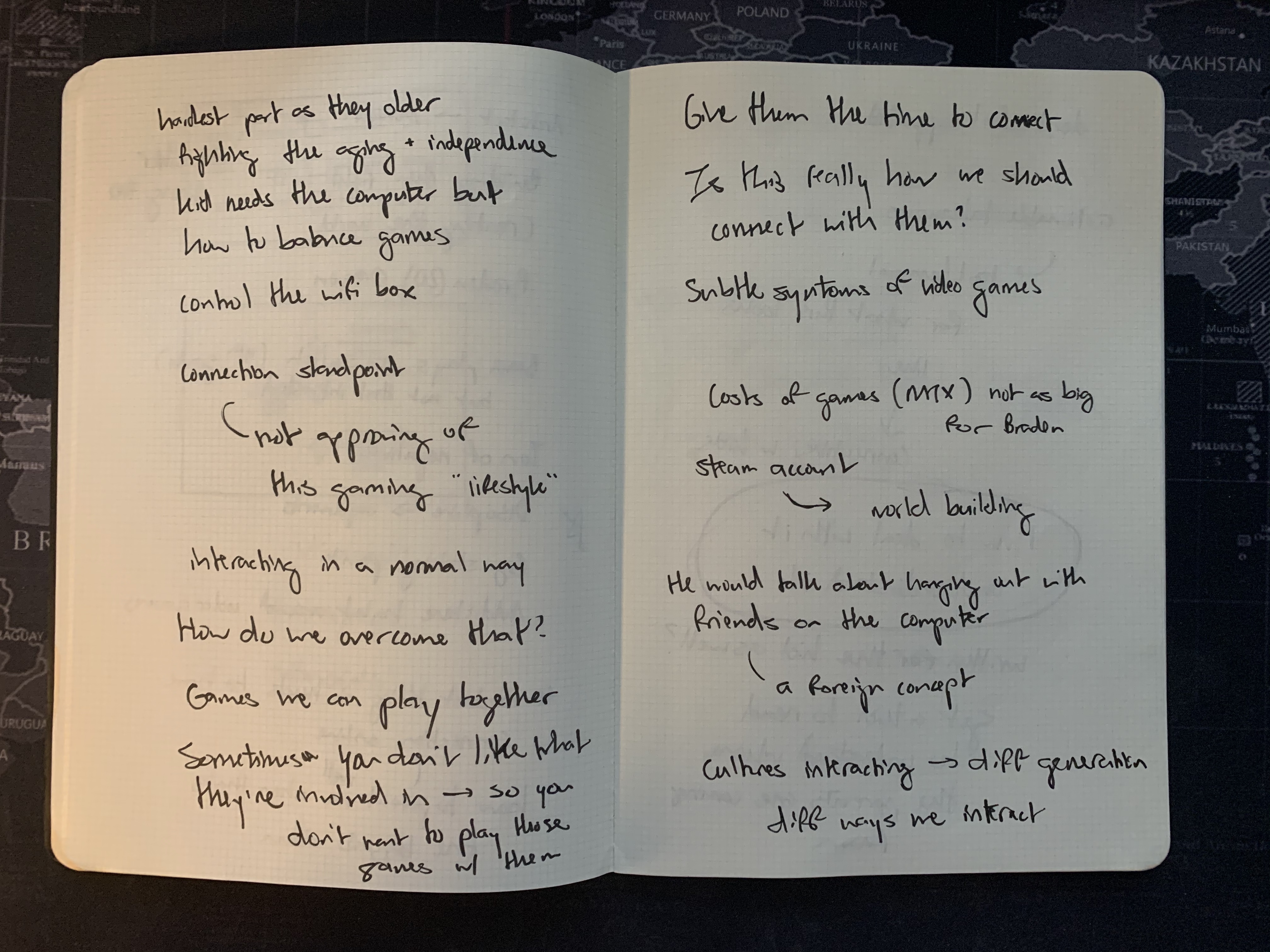 For this parent, his experiences with games were mostly negative. He struggled to understand his kid's "gaming lifestyle" and didn't know how to best connect with his kid as he grew older and more independent. However, he still found that games had at least some benefits to his kid. The friends he made online and played with became some of his closest friends, and Minecraft became a major driving point in him studying architecture.


All he wanted was for his son to better understand where his parents were coming from and how to better manage and control his gaming.


They just wanted to a find a silver lining that could help them better support their kid in their interests, even with parents' super busy schedules.




TARGET USER
Busy parents who wish to understand why their kids are so captivated by Minecraft and whether or not that is "bad" for their kids. They want to find a way to better connect and support their kids while setting a balance with the game. Their hope is to find a silver lining in the game that broadens their perspectives on why it's valuable and important to their kids.
WIREFRAMES & DESIGN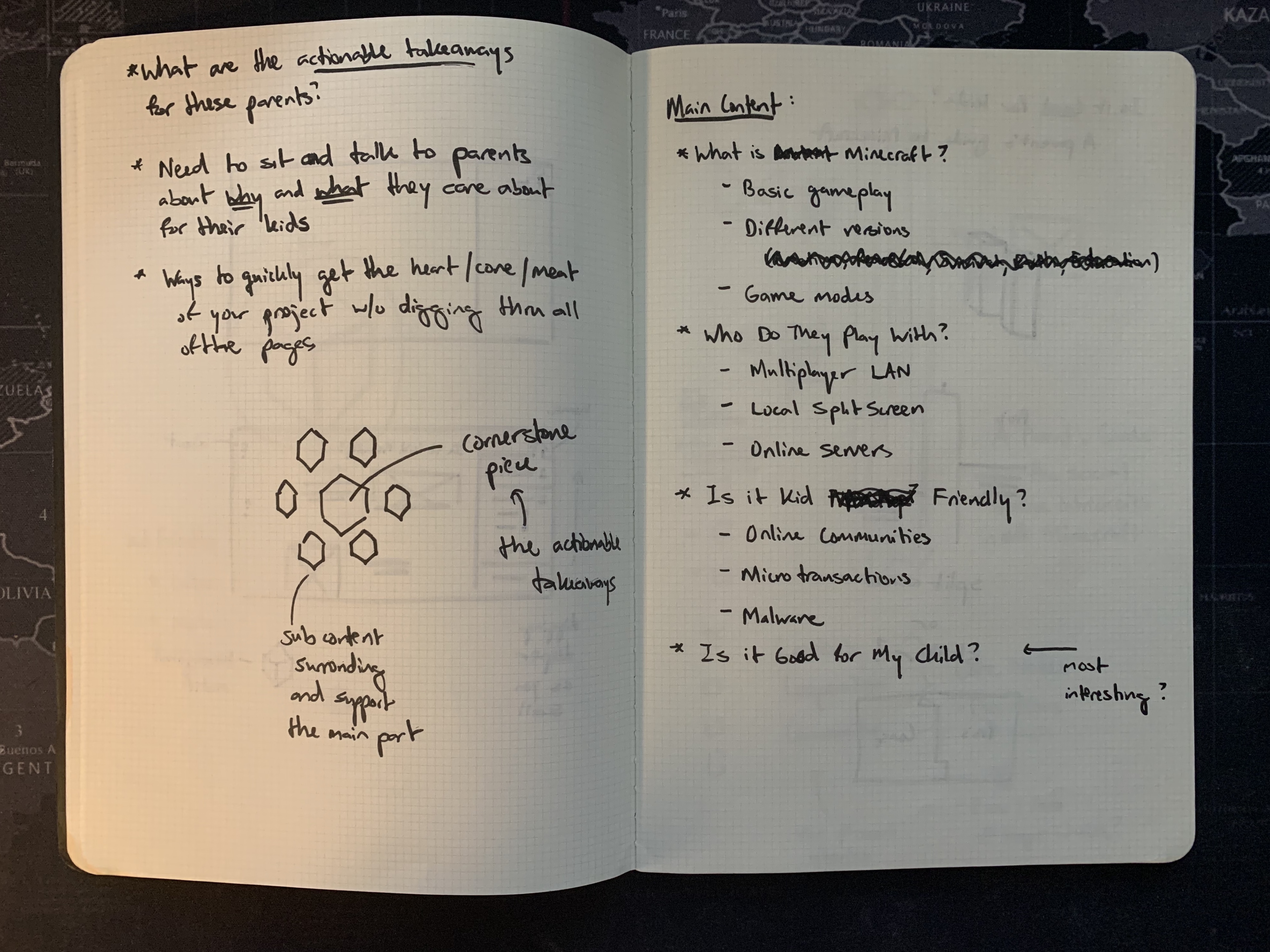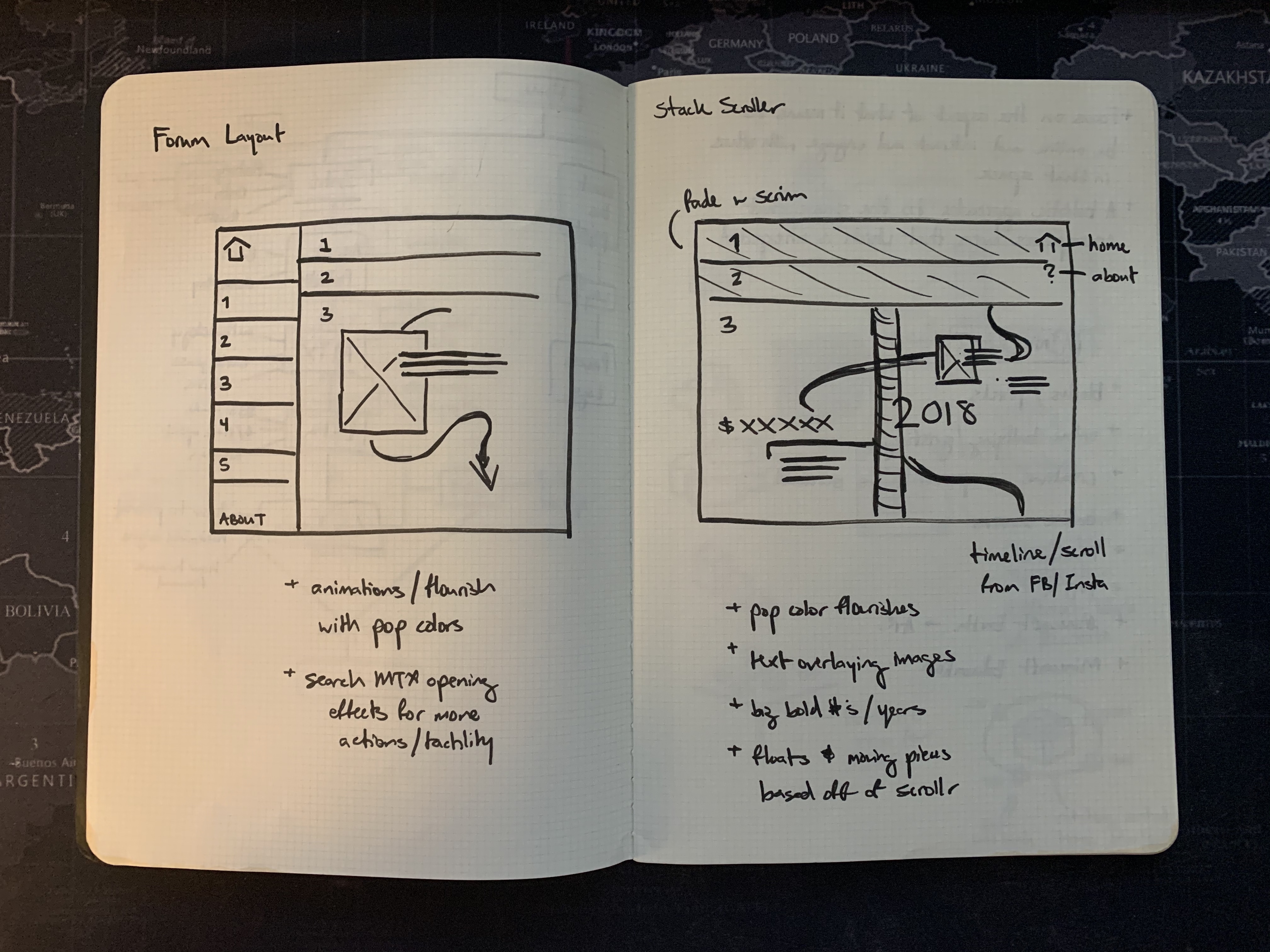 I tried multiple ways of managing, structuring, and delivering the content. In some, I did a comparison of positives and negatives in a visually narrative way, while in others I focused more on communication and prompting the parent with interactions for learning.


I explored different color palettes based off of the look of Minecraft to play into the aspects of games and Minecraft while staying appealing to parents.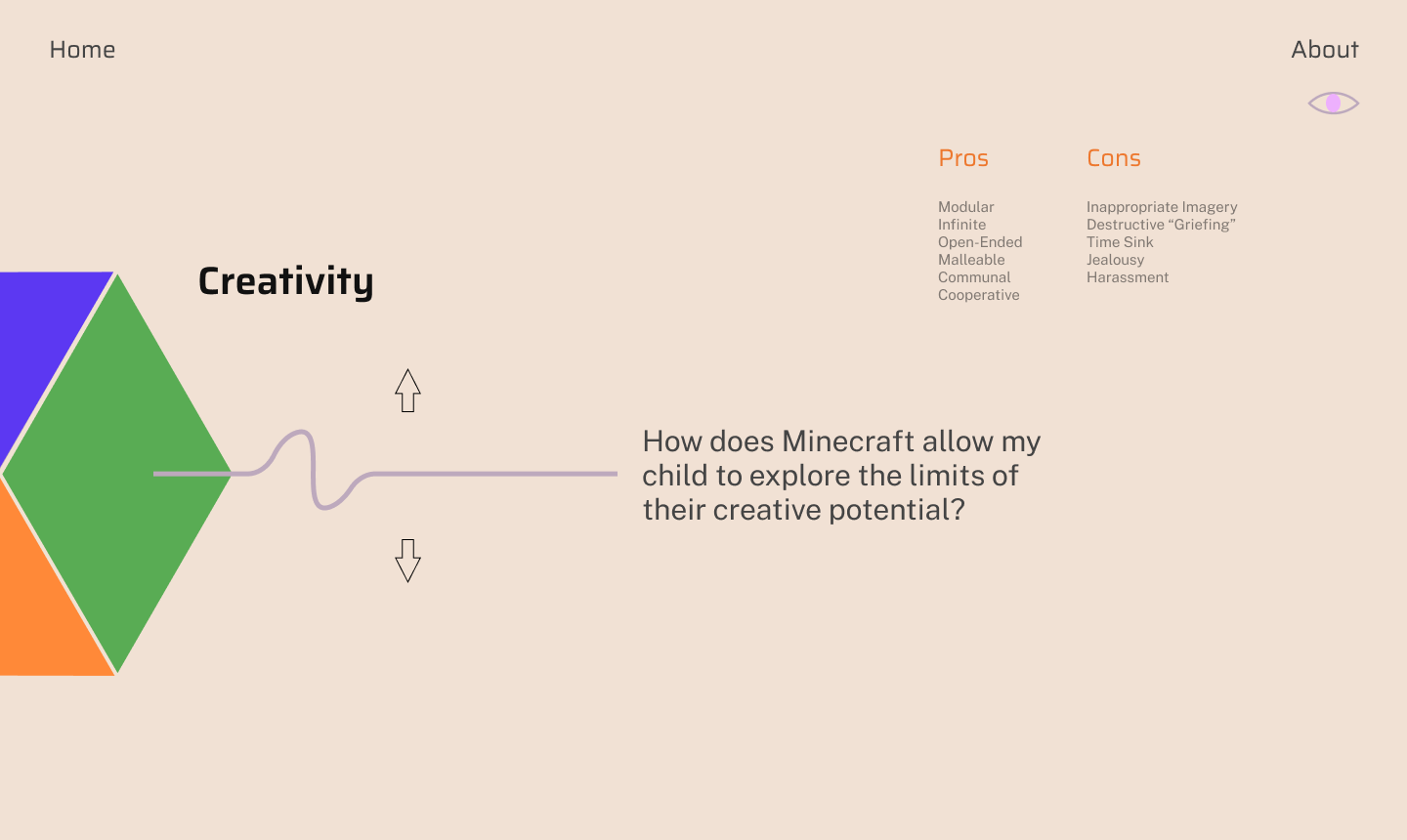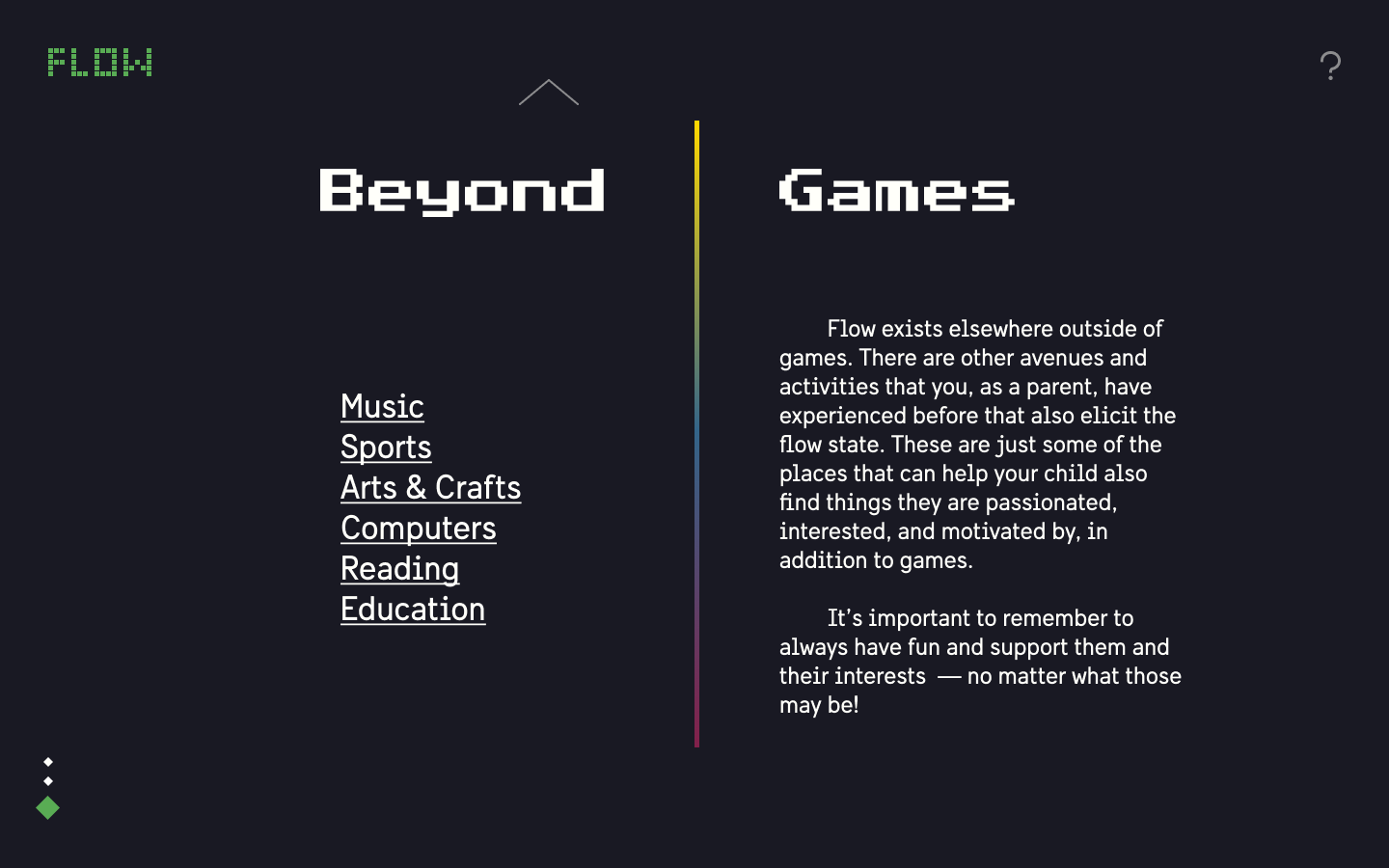 PROTOTYPES & USER TESTING

At this point, I ended up struggling a lot with the delivery and interactions. The iteractions and designs needed to be fleshed out and more thought-out towards why and how this site could benefit parents who can barely afford the time to learn more about these things.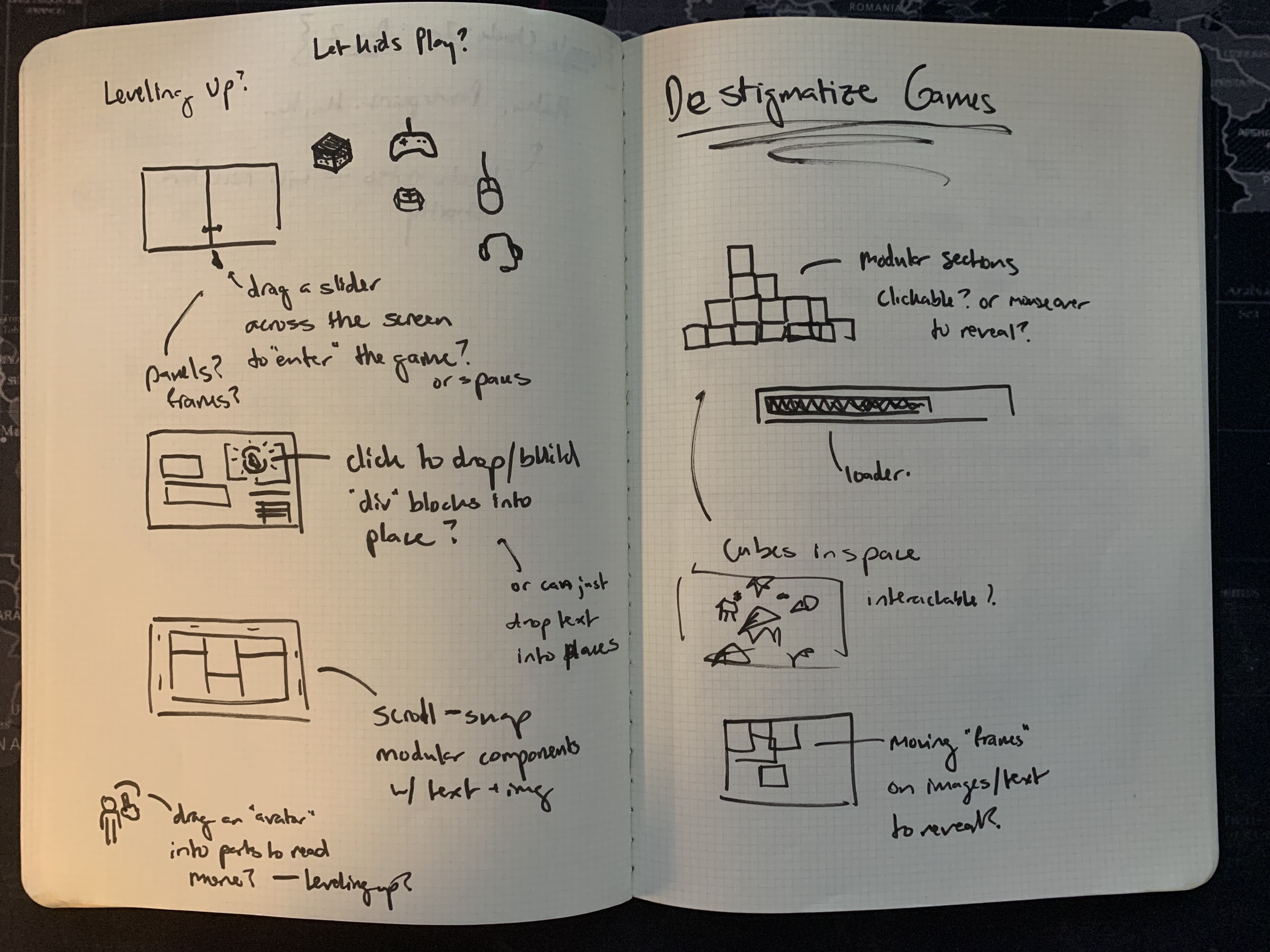 From here, I ran some user tests. I wanted to know how useful the product was and whether the site acts upon the parents'. needs

I created a survey to not only prob the solidity of my site but also to check on the assumptions I had mades. These assumptions formed the crux of my site, and while dangerous, were also exceptionally important to the design and backbone of the sight.


The parents, not me, should be the ones verifying the decisions I'm making.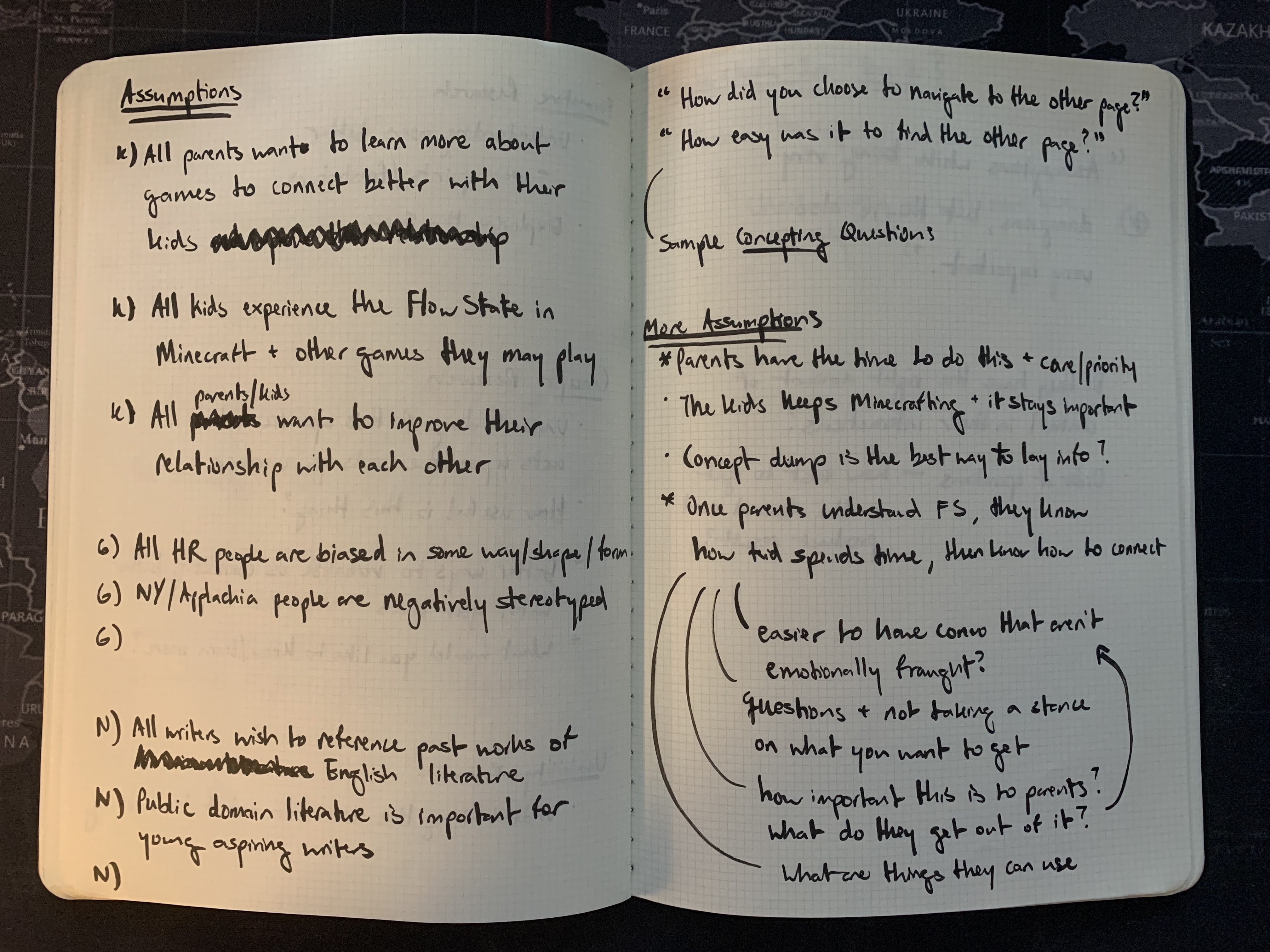 The user tests and corresponding survey exposed many faults in the my design and interaction structure that forced me to reconsider the making of the site itself.

However, the survey did show that my assumptions definitely had validity and were in fact more relevant. I needed to re-align my designs and interactions to best support them and their needs.


Sample Survey Questions



When do you see yourself using this website, if at all?

"I sometimes feel bad I never try to learn or play the video games my son plays, so if this [site] would [help] me to better understand his playing habits and behavior when playing I would be interested in trying this website."
What would you like to know more about in regards to Minecraft?

"Why is it different or better for kids than other video games? What do they learn by playing [Minecraft] or what skills do they develop if any? Is it just for fun?"
CONSTRUCTION

I started to build out the site from scratch using my prototypes and wireframes as a guide. I wanted to focus on the "game" aspect of Minecraft, so I played around with different ways to gameify the space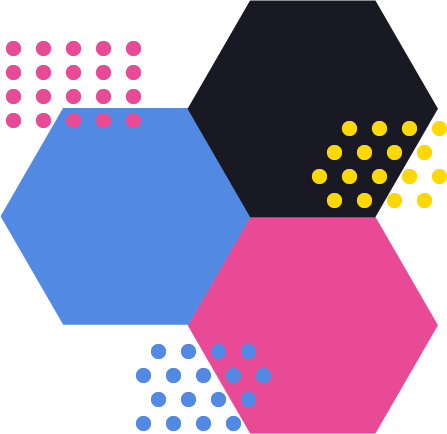 The site had 3 levels that you would drag-and-drop a character into. These levels would allow you to gain "experience" that would cause to the user to level up themselves through their understanding. Inside each level, there would be a scrolling piece with a heavy Minecraft aesethetic that would just allow users to flow through the content in bite-sized chunks .



However, as I built out the site, I realized the interior side-scrolling space was more successful than the drag-and-drop. The way the pixel clouds and Minecraft floor worked with the smoothness of the scroller created a playful, fun, and engaging method of interaction that was a lot simpler for both parents and for me.

At this point, most of the work was now to refine the writing. I needed more clarity and brevity in my words. Originally, I had the site entirely in a kid's voice, but it was confusing and not authorative enough. So, I split the kid's voice off into oversized pull-quotes that helped clarify and give context to each separate level while keeping an authorative tone to make parents more willing to listen.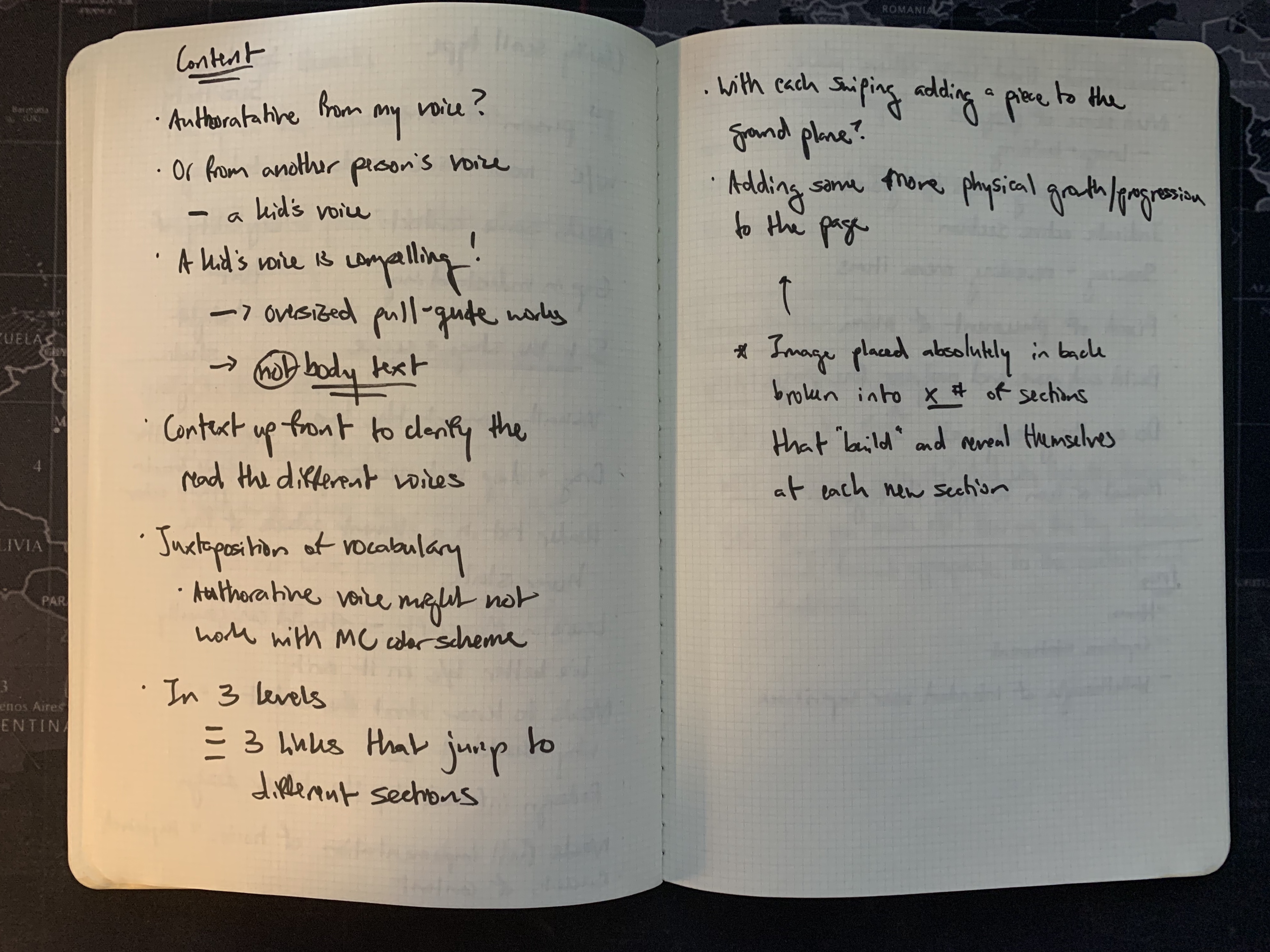 CRITIQUE

Looking back, this project was a successful endeavor where I learned a ton. I began planning this project in the winter of 2019 as just a simple idea to understand why people play games, and through the course of half a year, I probed the idea, iterated upon it many times, fleshed it out thoroughly, and grown a whole lot as a designer.


However, no design is ever finished or truly "perfect," and there's a few things I want to improve.



Content density:

Even with the refinements towards content and simplifying the design, the content was still too heavy. While the writing was successful, I needed to break it up more.

Setting the stage of what Minecraft is and its scope:

While I assumed that most parents would know what Minecraft is at a general level, I failed to introduce Minecraft generally for parents who might not know or even understand what Minecraft is and its scope.

Visually tying the sections together better with a stronger visual flair:

While I attempted to tie elements in a certain level together using a specific color, there's more I can do in terms of making each level feel more distinct.